Achieving radiant skin is only a Hydrafacial treatment away with Face Medical Clinic near Bury. This highly appreciated procedure provides deep cleansing, exfoliation and nourishment, all in one session. Clients have been delighted with the incredible results it brings.
The Hydrafacial is an exceptional skincare treatment that can effectively rejuvenate and revitalise dull and lacklustre skin, leaving you with a radiant and refreshed appearance. Our Bury clients love it for its remarkable transformation, leaving a beautiful overall look and feel of the skin.
If you've been struggling with skincare routines that seem to be taking up too much time and not giving you the results you desire, Hydrafacial is the solution. Hydration plays a vital role in achieving healthy and vibrant skin and this versatile treatment can target various skin concerns and help you achieve brighter, clearer and replenished skin.
At Face Medical Clinic, we offer free consultations to our patients in Bury so that you can discover the true benefits of Hydrafacial. Call the clinic on 01706 691 683 or email info@facemedical.co.uk for more information.
Facials Bury – Face Medical Clinic
If you're frustrated with constantly trying different skincare products without seeing the desired results, it might be worth considering treating your skin with a higher-quality facial.
We often see patients who invest their time and money in solutions that end up being ineffective for dull and tired skin. The revolutionary Hydrafacial is one treatment that is known to be effective in achieving radiant and flawless skin.
What is a Hydrafacial?
HydraFacial is a cutting-edge facial treatment that offers a multitude of benefits. It is a non-invasive procedure that involves multiple steps, including cleansing, exfoliation, extraction, hydration and antioxidant protection. The combination of these steps ensures a comprehensive and effective skincare experience for individuals seeking rejuvenation and nourishment for their skin.
This treatment works wonders for revitalising your skin by utilising its advanced Vortex-Fusion technology. It effectively eliminates dead cells, extracts impurities and introduces nourishing serums to promote a more radiant and smoother complexion.
What Are The Benefits of Hydrafacial Treatment Bury?
Hydrafacial is a transformative, cutting-edge skincare treatment that addresses a multitude of skin concerns without any invasive procedures. Whether you're looking to reduce fine lines and wrinkles or deal with congested pores and uneven skin tone, Hydrafacial has got you covered.
The multi-step approach will leave your skin looking refreshed, rejuvenated and absolutely radiant. You can feel confident in your own skin with a Hydrafacial – known as the ultimate solution for all kinds of skincare needs. 
At Face Medical, we genuinely value that everyone has their own distinct skin concerns. That's precisely why our team of highly trained aestheticians goes the extra mile to customise each Hydrafacial treatment according to your individual needs. By utilising a variety of serums and boosters, we ensure that you receive personalised care and attain the best possible outcomes for your skin.
Effective for All Skin Types
Hydrafacial is a fantastic option for people of all skin types, even those with sensitive skin. The treatment is designed to be gentle and non-irritating, ensuring a deep cleanse without any discomfort or downtime. 
With the Hydrafacial, you can expect immediate radiance without the concern of post-treatment redness or peeling. It's the ultimate solution for a revitalising and worry-free skincare experience.
A Proven and Safe Experience
At Face Medical, we take your safety and comfort seriously. With our team of highly skilled practitioners by your side, you can rest assured that you will receive the utmost care throughout the entire Hydrafacial process in Bury. 
We are committed to providing a soothing and stress-free experience from the moment you walk through our doors. You can sit back, relax and let us pamper your skin with exceptional care.
Hydrating Facials – Face Medical Bury
Enhancing your skincare routine goes beyond just using moisturising products at home. In-clinic treatments can play a vital role in achieving better skin outcomes. These treatments offer specialised care and expertise that surpass the benefits of topical products alone. By combining the power of professional treatments such as Hydrafacial with your daily regime, you can truly elevate the health and appearance of your skin.
Free HydraFacial Skin Consultation Bury
At Face Medical Clinic, we use the state-of-the-art Observ Skin Scanner. This advanced technology enables us to conduct a thorough and in-depth analysis of your skin's overall health and condition. With this powerful tool, we can accurately evaluate every aspect of your skin, ensuring that you receive personalised and effective treatments for optimum results.
We can delve beneath the surface and thoroughly analyse the intricate layers of your skin. Through a series of highly detailed images, we gain an in-depth understanding of your skin's overall health. This enables us to accurately identify and address any concerns by pinpointing their root causes.
Not only can our skin analysis determine the current state of your skin, but it can also offer valuable insights into any potential future concerns. We can even predict how your skin may age over time. You can stay ahead of the game and take proactive measures to maintain youthful and healthy-looking skin with our help.
Our team will recommend the most effective treatment option to improve the inner health of your skin. Throughout treatment, we can not only strengthen and rebuild the structure of your skin but also significantly enhance its texture and tone.
What Skin Concerns Does Hydrafacial Treat?
If you're worried about lines, wrinkles or sagging skin, or you have skin that lacks radiance and feels dry, the Hydrafacial treatment can help. It can also be beneficial if you have pigmentation issues such as age spots, or if you struggle with oily skin and blocked pores.
How Does A Hydrafacial Work?
The Hydrafacial is famous for its highly effective 6-stage process:
Lymphatic drainage
The gentle and rhythmic technique not only improves circulation but also enhances oxygenation of your skin cells. By stimulating the lymphatic system, this step effectively aids in detoxification, resulting in a healthier and revitalised complexion.
Deep cleansing and exfoliation
Deep cleansing and exfoliation are vital steps in the Hydrafacial process. This step effectively removes dirt and debris from both the surface of the skin and deep within the pores. This not only promotes a clean and clear complexion but also enhances the absorption of skincare products for optimal results.
Chemical peel
Experience the transformative effects of a chemical peel during your Hydrafacial treatment. By gently eliminating dead skin cells from the surface, this step revitalises and rejuvenates your skin's topmost layer, resulting in a noticeably smoother and more luminous complexion.
Extraction
During extraction, the gentle suction effortlessly eliminates blackheads and other impurities from your skin. This step guarantees a thorough cleansing process without any unnecessary irritation or discomfort. By effectively extracting these impurities, you can enjoy the benefits of clearer and healthier skin.
Hydration
Keeping your skin hydrated is absolutely vital for maintaining a healthy and nourished complexion. Thankfully, the Hydrafacial treatment is here to rescue your parched skin. By delivering essential moisture, it effectively quenches the thirst of your skin, leaving it feeling refreshed and revitalised. But that's not all – the Hydrafacial also provides your skin with valuable antioxidants that work tirelessly to shield it from harmful free radicals and environmental damage.
LED light therapy
The advanced technique of LED light therapy in the Hydrafacial eliminates harmful bacteria, but it also stimulates collagen production to enhance the health and radiance of your skin. Through precise targeting of specific wavelengths of light, this step goes beyond surface-level improvements to deliver a truly holistic skincare experience. Reveal a complexion that is not only blemish-free but also embodies youthful vitality.
Are Hydrafacial Results Instant?
Although the Hydrafacial works its magic right away by nourishing and hydrating the skin, it's essential to allow a little time for the full results to appear. Depending on individual skin types and conditions, it could take up to 10 days for noticeable improvements to fully manifest. Rest assured, the wait will be worth it.
How Much Does Hydrafacial Cost In Bury?
At Face Medical near Bury, we offer the Hydrafacial treatment for as little as £80. It typically takes just 30 minutes to complete so you can even squeeze this treatment into your lunch break.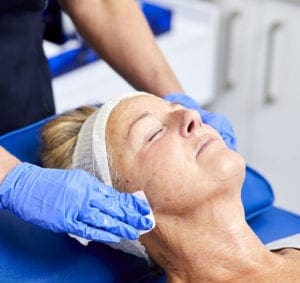 Book A Hydrafacial With Face Medical Near Bury
Our clients in Bury benefit from free consultations for Hydrafacial at Face Medical Clinic.
Contact us today to book yours. You can call us on 01706 691 983 or email info@facemedical.co.uk for more information.
Face Medical Clinic,
15 Hornby Street,
Heywood,
Manchester,
OL10 1AA
About Bury, Greater Manchester
Situated in the North West of England, Bury offers a unique blend of traditional charm and modern amenities. One of the standout features of Bury is its bustling market, which has been operating for over 600 years.
Bury is well-connected with excellent transport links, making it easy to access other parts of Greater Manchester and beyond. Whether you're looking for shopping opportunities, cultural experiences or natural beauty, Bury has something to offer everyone.